About Us
Ventura
Camarillo
Contact
Locally roasted coffee, tea and fresh homemade
baked goods all served in Ventura & Camarillo.
Kay's Coffee Shop is an independent, locally owned and operated coffee shop.
Proudly pairing Beacon Espresso with Straus Organic Barista Milk. We also feature Wild Goose Coffee Roasters, Taza Chocolate, Sanctuary Chai, and Zhena's Loose Leaf Gypsy Tea.
Kay's Coffee Shop serves double shot, traditional espresso-based drinks, including cappuccinos, lattes, and mochas, as well as signature drinks like the brown sugar latte and coconut mocha.
We use Straus Family Creamery's Barista Milk (whole, 2%,and non-fat) in our espresso-based drinks and hot chocolate. Almond and soy are available at no extra charge. We also serve any espresso drink as decaf.
For the non-coffee drinkers, we offer chai lattes, hot chocolate, a variety of organic loose leaf teas, and hand crafted sodas.
We have a small kitchen in our Ventura shop we lovingly bake most of the tasty treats and pastries available for purchase. Kay's Coffee Shop also sells local hand crafted cups and mugs by pottery artist Lorna Christian.
On A Personal Note...
Kay's Coffee Shop is named after my father, Everett Kay Hansen. My Dad was a constant coffee drinker and a die-hard dessert fan. He was also a perfectionist in everything he did – from his work as a machinist to his hobby of building quarter-scale radio controlled airplanes.

In tribute to my Dad's love of coffee and sweets, and his commitment to doing things right, we offer you the best coffee and sweets made with the same care and perfection.

- LaDonna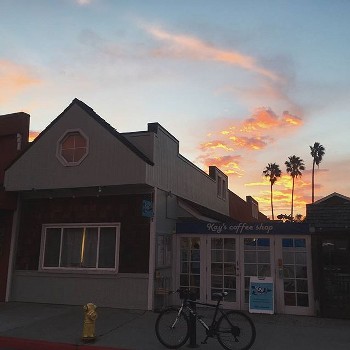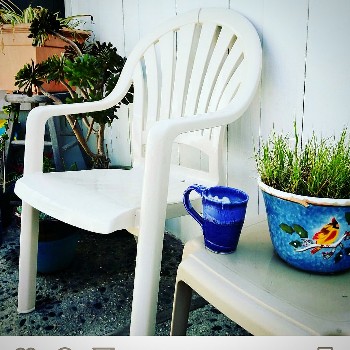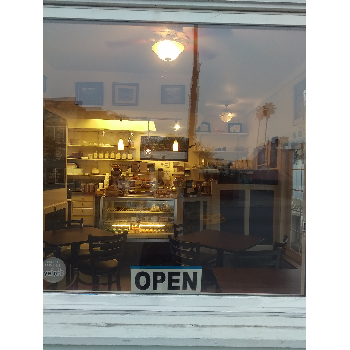 Gift Cards are here! - Just ask us at the front counter!
"The Shop," as the Ventura location is affectionately known, has been serving friends, neighbors, beach goers, and travelers since October 2013. Customers are welcome to get comfortable at the few tables inside or soak up some sun on the patio. Due to limited seating capacity (and proximity to the beach) WiFi is not available.
Menu
Kay's Coffee Shop was the first coffee house in Ventura County to exclusively use Straus Organic Barista milk as standard for all of our drinks. We proudly brew coffee roasted by Ventura's own Beacon Coffee Company and Redland's Wild Goose Coffee Roasters. We use Taza's stone ground organic chocolate in both our hot chocolate and hot/iced mochas, and we make our chai lattes using Sanctuary Chai.
We believe in keeping things simple and honest and we make most of the baked goods we offer. Although pastry selection varies daily, you can generally expect to find scones, breads, coffee cakes, brownies, and lemon bars on any given day, baked with a lot of love and the same ingredients you probably have in your pantry.
Double Espresso
Macchiato
Americano
Cappuccino
Breve
Latte
Mocha
House Coffee
Red Eye
Cafe au Lait
Hot Chocolate
Chai Latte
Cold Brewed
Iced Coffee
Iced Latte
Iced Mocha
Blended Latte
Blended Chai
Blended Mocha
Hand Crafted Sodas
Iced Chai Latte
Iced Teas
Selection varies daily
Scones
Breads
Coffee Cakes
Cinnamon Rolls
Fruit and Oat Bars
Croissants
Lemon Bars
Brownies
Swell Snacks (gluten-free, organic)
Yogurt Parfait
Homemade Granola Bars
Trucker Twinkies
All of our milk based drinks feature Straus Organic Barista Milk. Soy and almond milk are available upon request at no additional charge.
Our selection of Zhena's Gypsy Tea varies. We currently have:
Bed & Breakfast, Gypsy King Chai, Gunpowder Green, Organic Peppermint, Italian Chamomile, Luminous Lemon (Rooibos)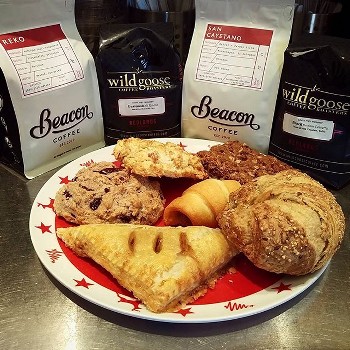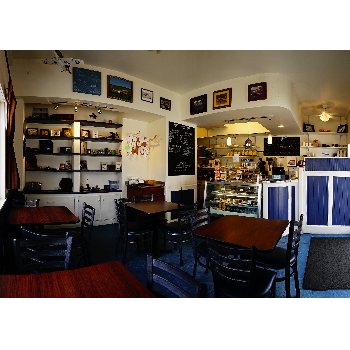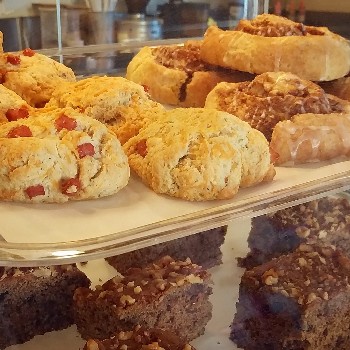 We opened our second location in November 2016. There, you will find the same great coffee and espresso based drinks we serve at the shop in Ventura (minus blended drinks), along with a small selection of pastries that were baked at our Ventura location.
Seating isn't an issue, so whether you want to meet friends, hold a business meeting, or have a study session, we are here for you. WiFi is available to our customers.
Have a special event coming up?
From tea parties to corporate meetings, Kay's has you covered. We provide locally roasted coffee and hand crafted baked goods to suit any occasion!
Enter event details below!
1124 South Seaward Ave
Ventura, CA 93001
Monday - Thursday
7:00 a.m. - 2:00 p.m.
Friday - Sunday
7:00 a.m. - 3:00 p.m.
Phone
805-641-1581
2364 Ventura Blvd
Camarillo, CA 93010
Monday - Thursday
6:30 a.m. - 3:00 p.m.
Friday
6:30 a.m. - 7:00 p.m.
Saturday
8:00 a.m. - 3:00 p.m.
Closed Sunday
Phone